Worst Nokia 9 PureView and Realme.
Smartphones brand Realme recognized most prone to overheating. With continued work, these devices can heat up to more than 33 degrees, reports the Chronicle.info with reference to Browser.
This result showed the study, which was tested smartphones only Asian brands.
Note that in the overall ranking, the highest temperature was recorded at the Nokia 9 PureView – his body heated up to 43.05 degrees. But by "hot" is still called soup Realme, the average temperature was about 33,18 degrees.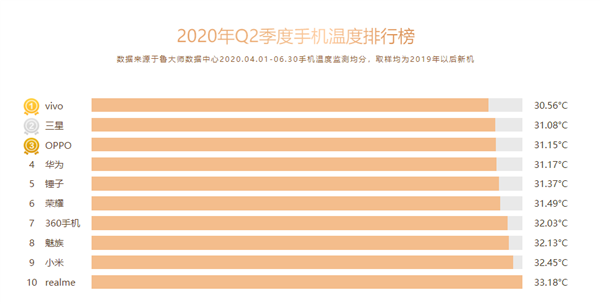 Smartphones Realme most prone to overheating (news.mydrivers.com)
The most "cool" smartphones are the devices from the company Vivo. In them the average temperature of the body, and device components is 30.56 degrees. The second and third position on the heating took the gadgets Samsung and OPPO with the average temperature at constant work to 31.08 and of 31.15 degrees, respectively.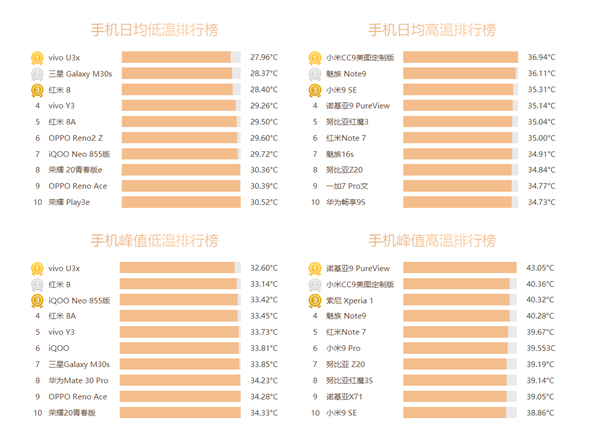 The test results of the Chinese smartphone (news.mydrivers.com)
In addition, the benchmark composite rating of all the participating smartphones. So, the least temperature was maintained Vivo U3x – during the active work of his body warmed only to 27.96 degrees. Also in the top list is less prone to overheating of the apparatus POPAI Samsung Galaxy M30s, Xiaomi Redmi Redmi 8 and 8A, Y3 Vivo.